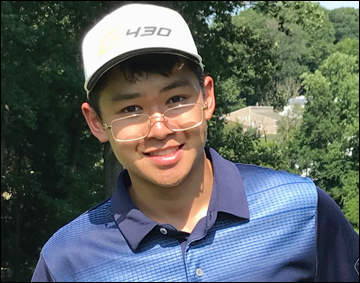 David Nguyen Interview
August 7, 2023
FTCI: As we speak, you're in Palo Alto, California, at Stanford University. What takes you there?
David: In addition to attending Valley High School, where I'll be a Senior this fall, I also
participate in an online high school conducted by Stanford University. In the summer they hold a
two-week camp bringing those students together on campus to take classes and partake in
other activities. It's really exciting!
FTCI: That's fantastic! You are a busy guy. I want to get your impressions of being selected to
participate in the Building Game Changers Academy last month.
David: My experience started even before I reached the program site at Villanova University,
just outside of Philadelphia. While waiting at the gate in Atlanta for my connecting flight, I looked
up and noticed a man wearing a First Tee shirt. What a coincidence! He turned out to be Rob
Neal, Vice President of Chapter Relationships for First Tee National. We talked for two hours on
all sorts of First Tee things like chapter recruitment, what I could expect from the Academy, and
actionable things I could do in our chapter. I shared with him my story and how I came to
participate in First Tee — Central Iowa. So, before I even arrived at the Academy, I got to talk
with one of the people in charge of First Tee on a national basis. That has left a lasting
impression on me.
The thing I remember most when arriving at Villanova were the attitudes of all the other
participants and the atmosphere there. Everyone was uplifting, open to ideas, and excited to
converse with others. I could clearly tell they were people who make big things happen in their
communities – from the way they held themselves, the way they talked, and the way they engaged
with strangers. By the end of camp, we weren't strangers anymore.
FTCI: There were quite a few attendees from around the country, weren't there?
David: There were 72 participants and quite a few coaches from different chapters. I enjoyed
talking with all of them.
FTCI: Was there such a thing as a typical day at the Academy?
David: Everyday was really special. After breakfast we'd head to RISE (Research Training
Initiative for Student Enhancement) Training which was focused on inclusion, diversity, and
equality – and how to address those pressing problems. It was a big environment where you
could be open to talking about any topic. They called it a safe space and it really was. It's the
first time I have been in an environment that truly deserved that name. I had a strong connection
with several participants with whom I'm still in contact via group chat on these important topics.
FTCI: Were the diversity, equity, and inclusion discussions about the topic in general or how you
could take these ideas back to your respective chapters?
David: Both! We focused first on how to apply the concepts in our local chapters. I have a
couple of good notes on what we can do in Central Iowa and the benefits of implementing these
initiatives.
After training in the morning, we transitioned into the golf portion of the Academy. We had skill
stations and golf outings on the course. The coaches made sure to tie in what we learned in the
morning into the bigger picture of becoming a Game Changer in our local communities and
creating an environment where everybody can be successful.
FTCI: Was there one big takeaway from the week where you knew being selected for this
Academy was special?
David: The biggest moment of connection I felt with my fellow participants was on the closing
day. We had a banquet after our outing at Merion Golf Club. We were all in a big dining hall and
there were speakers and awards. But the big thing was when we said goodbye to the coaches.
That's when I saw how much the coaches were invested in us, and we were invested in them –
even though we were from chapters from all over the country. We felt First Tee is more than a
single chapter here and there but a big nationwide organization working to address these issues
for kids all over the U.S. and internationally.
FTCI: What has it meant to you to be selected for the Academy and going through this
experience?
David: It wouldn't be too much to say that it was a transformative experience for me. I really felt
a shift in my perspective, in my mindset. In First Tee we talk about core values like confidence
and perseverance. At the Academy was when I felt those values being put into play – physically,
within me.
FTCI: What would you say to other First Tee — Central Iowa participants who might be
interested in applying for these types of opportunities through First Tee National?
David: The hardest part for me was to take that first step. Do I want to do this? Do I want to
step up and take the risk? What I've learned in being a junior coach and a participant in this
Academy is that a leader isn't someone who is the best at everything they do, that knows
everything – it's the person who's willing to step up and take action where others may not want
to. When I've talked to others in our chapter about applying for these national opportunities,
they're concerned they won't be able to fit in, they're not smart enough, they're not good
enough, they're not ready, etc. But the defining aspect of any leader is being able to step up.
So, I encourage any participant in Central Iowa to take that first step and experience an
Academy that teaches lessons that last forever.
This interview has been edited and condensed for length and clarity.